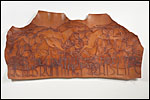 ---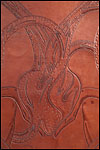 ---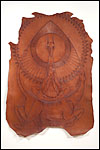 ---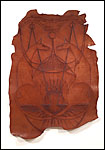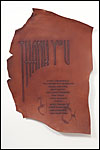 ---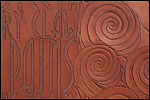 ---

---

Casey Gunschel's work is truly awe-inspiring. Identifying this current body of work as extreme leather tooling is the most straightforward way to describe her process. From the painstaking detail involved in the creation of each hide to the sheer size and intricacy of the images, Gunschel has been planning, drawing, and tooling for two years. As a ground, leather presents both benefits and challenges. Because the material is durable and lasting, it allows her to express herself with a sense of deliberate permanence akin to tattoos or stone carvings. To accommodate her large-scale images, she must specially import five by eight foot hides from Argentina.

Inspired by tales like Aesop's Fables and Animal Farm, Gunschel's parable explores concepts of power, judgment, manipulation and hypocrisy, as they exist in all relationships. With 8 works in the show, three depict well-known fables (A Lion in Love, The Hound and the Hare, and The Turtle and the Scorpion), and five compose a narrative of her own. This tale explores the relationship between two dogs, who, as brothers, begin as equals in every sense. As the story progresses from one hide to the next, the brothers grow apart: inevitably a power imbalance results. Gunschel's fable represents a sort of marriage between two forces who, just as they exist together, constantly attempt to exist apart, on separate--and unequal--planes. By exploring her own relationships, and acknowledging the distance, inequality and conflicts within them, she encourages her audience to do the same.

BIO / Drawing her inspiration from nature, science, and cultural traditions, Casey Gunschel is an artist who gracefully straddles the boundary between fine and functional art. Whether creating intricate palimpsests of paint upon antique maps, or tooling fantastical seascapes into cowhide, all of her work deals somehow with convoluting the notion of skin. The creatures in her paintings appear alternately as hollow shells of flesh and fur, or the anguished and trussed carcasses from which those skins were stripped. Her work with leather uses skin as its medium, creating art and sculpture of great depth and detail on what could be considered the most primal surface. Even the tessellations of her handcrafted wallpaper designs provide playful and expressive skins for otherwise mute walls. Using flesh as both subject and substance, Gunschel's body of work constitutes a nuanced, nostalgic, and sometimes macabre investigation into the duality of the superficial and the sublime.