---

---

---

---


---

---

---


---
---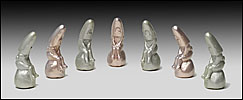 ---
---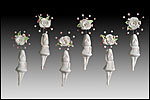 ---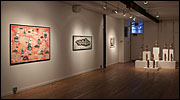 ---

Mortality is a constant partner. With the Shark Girls and their accompanying imagery, Casey Riordan Millard examines the search for solace from the heartbreak of mortality. While we may find temporary distractions in nature, the routine of everyday living and the trappings of Western culture, these distractions are only external. A deeper relief from the human condition must come from within if we wish to ease our fears about our impermanence.

The predicament of the Shark Girl is that she never faces her inner turmoil and, instead, continues the outward quest for diversion. While she is sorrowful, wandering, and terrified, there is a comic element to this "fish out of water." We can relate to Shark Girl in our own pursuits for satisfaction and tranquility.

Casey Riordan Millard graduated with a BFA from Ohio University, Athens, Ohio in 1994. She has exhibited her large-scale installations, ceramic works, paintings and drawings in galleries throughout the United States including the Fuller Craft Museum, Brocton, Massachusetts, Cincinnati Art Museum, John Michael Kohler Center for the Arts, Sheboygan, Wisconsin and Packer Schopf Gallery. Her work has been featured in the publications New American Paintings and 500 Ceramic Sculptures. In 2009 she received an Efroymson Contemporary Art Fellowship. Currently, she lives and works in Cincinnati, Ohio.