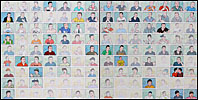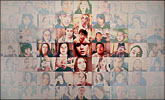 ---
---
---
---
---
---
---
---
---
---
---

---

I'm so over you.
I know, I still use you for like email and stuff.
But really, I feel like I'm the one getting used.
I'm just tired and bored, bored, bored.
You used to be so thrilling and exciting.
Now, you're like some big thing needing to be fed.
And the results just end up being me.
Goodbye.
See you later.



Doug Smithenry's paintings are based on seemingly inconsequential events that occur on the web. They tell a sad sorry tale of how lessons go unlearned and heartfelt desires remain unfulfilled. Micro-celebrities and viral videos make frequent appearances, demanding our attention and eating it too. Smithenry's traveling exhibition, Coming Out Online, an installation of paintings that document the online testimonials of queer teens was featured at the Center on Halsted and continues to tour in various academic venues. The Coming Out Online exhibition garnered an article in the Chicago Tribune and was discussed on Chicago Public Radio's news magazine 848. His work has been reproduced in Harper's Magazine and The Common Review. He was a featured artist during Chicago Artist's Month in 2009. Smithenry's work has been seen nationally and internationally.