Jason Lahr
Head Glitch


---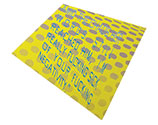 ---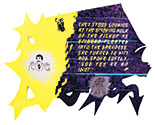 ---




---


Head Glitch is a video gaming term–while playing Call of Duty you get behind something where only your head is showing but you can still shoot your gun as if nothing is in front of you. It's a clever advantage for the player using it but an exercise in frustration for player it's used against. Though his work is confrontational, Lahr's point is not to make the artist /viewer relationship adversarial. Contained yet curated, Lahr deploys multiple elements. Expect the paintings to be geometrically aggressive, intensely colorful, with vertigo inducing combinations of imagery and words.

Type driven text is seminal in Lahr's work. It dynamically floats on all of his paintings within the meandering perimeter, and sometimes stands alone as the main element. Lahr writes these concentrated thoughts as if pilfered from an Elmore Leonard novel. The paintings draw from multiple thought perspectives: narrative theory, contemporary and postmodern fiction, semiotics, feminism, and film theory. These are employed to explore the formation and shaping of working class masculine identity through mass culture. Additionally, the visual language of digital culture–derived from video games, early computer imaging, and .jpg glitches–is combined with traditional painting techniques and references to illustration, print media, and graphic design, to create a complex network that addresses the articulation of masculinity manifested in Generation X.

Bio
Jason Lahr was born and raised in rural Pennsylvania. He received his M.F.A. in drawing and painting from Penn State University and his B.F.A. in painting from Clarion University. His work is located in private and public collections across the U.S. and Europe. Since 2004, he has been represented by Aron Packer Projects in Chicago, IL.